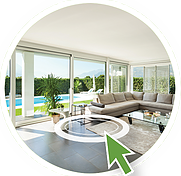 Showcase properties like never before, in 3D.
Our signature real estate photography service. A 3D WALKINTOUR® virtual home tour provides buyers access to your listings 24/7. Viewers will be able to access your listings via smartphone, tablet, or laptop with the touch of a button.
Our immersive interface allows buyers to explore every room in the house at all angles. Grow your business by featuring a 3D WALKINTOUR at your next listing presentation.
What can a 3D WALKINTOUR do to help showcase your space?
Increase your exposure to prospective buyers

Provide access to your listing 24/7
Conveniently view property via laptop, tablet, or mobile device
Easy to navigate for anyone
ORDER NOW
Take advantage of the best priced solution on the market! We offer custom quotes for large commercial projects. For more information, contact us now.
$250.00 
STARTING PRICES (Prices may differ between regions)