We've got great news for our Real Estate Professionals!

You can claim a free Aerial Photography session each time you refer your client to 1-800 Water Damage of Hayward and Dublin.
As Real Estate Professionals, you provide insights on property, investments and mortgage trends within your service areas. You are also top of their mind when it comes to service providers. When your clients need the services of plumbers, interior decorators, pest control experts, and  even insurance brokers, they ask you for referrals.  Your network and the list of dependable service providers you trust become part of your valuable toolkits.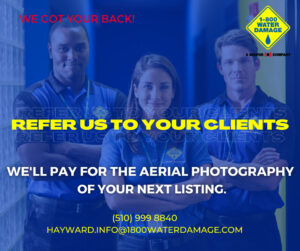 WALKINTOUR has collaborated with 1-800 WATER DAMAGE of HAYWARD and DUBLIN, as your resource for  full service restoration and emergency services. They got your back for these services: Water leak remediation, sewage backup remediation, mold remediation and flood remediation. You will not be disappointed! They will ensure that your clients are happy because you referred them to real experts in restoration.  Your clients will thank you for an  excellent referral of a service provider who delivers.  And, you get to avail of a free Aerial Photography session, just by referring.
Here are the mechanics of this partnership promo:
Refer 1-800 Water Damage of  Hayward and Dublin to your clients.

 Their service areas include: Alamo, Castro Valley,  Cherryland, Danville, Dublin, Fairview, Fremont,  Hayward, Livermore, Pleasanton, San Leandro, San Lorenzo, San Ramon, Sunol, and  Union City.)

When your clients book a service, Operators will ask how how they learned about 1-800 Water Damage or who referred them. 

Operators will ask the referrer's email address, (Be sure your clients know your email address.) and a Code. The Code is WIT8WD.

Once the services of 1-800 WATER DAMAGE of Hayward and Dublin is completed, you will earn that FREE Aerial Photography session.

Our team at WALKINTOUR will reach out to you regarding the free Aerial Photography session. They are ready to

book that appointment

with you at your convenience.

There is no cap on how many Aerial Photography sessions you can claim. Every time your client mentions your name as the referrer, you can claim that free session. 

Your free Aerial Photo session does not expire.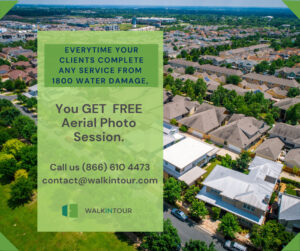 If you need further information, please reach out to your WALKINTOUR team or to the 1800 Water Damage of Hayward and Dublin at (510) 999-8840 or email hayward.info@1800waterdamage.com. They will be very glad to be at your service. 
For complete information on 1-800 WATER DAMAGE, please visit their website. 
Enjoy huge savings on your marketing by taking advantage of his partnership.
We look forward to delivering your Aerial Photos.  See you soon!